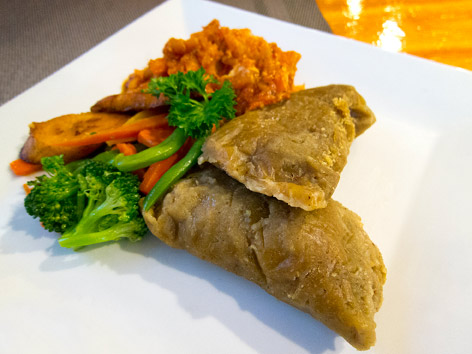 What: For this tamale-like dish, sweet potato is grated and combined with coconut, pumpkin, cinnamon, and other seasonings, then wrapped in a banana leaf and boiled in water. The result is a subtly sweet and dense dumpling, a delicious contrast to salt fish, a common partner on the plate. It's not unlike fungee in texture (see: Antiguan breakfast), but it's much more flavorful. It's the best use of sweet potato, once cultivated on the island by the Arawak Indians centuries ago, in Antiguan cuisine.
Where: It's in a touristy part of St. John's, not far from where the cruise ships come in, but The Quay (268-562-8147; Redcliffe St., St. John's) had a beautiful ducana dish on its specials menu when we were in town. The restaurant offers this dish about once a week.
When: Mon-Sat, 10am-10:30pm
Order: Here the ducana (35 EC) was served with salt fish (cod), plantains, and steamed vegetables. It was surprisingly filling and delicious, a wonderful balancing act of sweet and salty flavors and dense and chewy textures. Other Antiguan dishes you might try here are salt cod cakes, conch fritters, fungee and fish, and local rock lobster.
Alternatively: We've heard that Caribbean Taste (268-562-3049, behind Dockyard Drive, approx. map), near Nelson's Dockyard in the Falmouth/English Harbour area, offers a good ducana, as well as other native specialties.