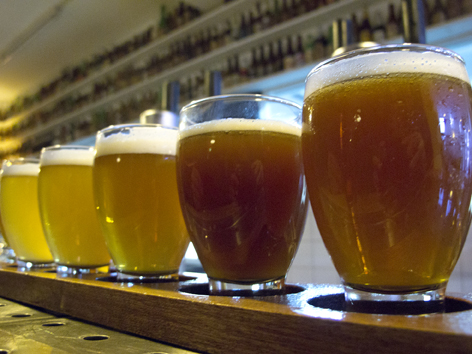 What: It may be overshadowed by its two famous beer-producing neighbors—Belgium and Germany—but don't underestimate Dutch brewing: There's some terrific beer in this country, and Amsterdam is an ideal place to sample some of the best. To clarify, since we're no longer living in the 19th century, when both of these brewers were small and local, we are not talking about Amstel and Heineken here (see below). We're talking about the city's small but strong stable of craft brewers—notably the windmill-situated Brouwerij 't IJ and the Red Light District's de Prael, as well as others and a few brewpubs—and excellent beer bars and stores, where easy access is offered to a host of small Dutch brewers just beyond Amsterdam's borders. Get schooled on Dutch beer and you'll soon be asking, "Coffee shop who?"
A note about Heineken and Amstel: Both of these global brands are owned (along with scores of other brands around the world) by the Heineken International behemoth, and—despite the ever-popular Heineken Experience—both are brewed at the same big breweries well outside Amsterdam. The Experience is best thought of as more an adult theme park than a functioning brewery.
Where: Our favorite of the Amsterdam microbrewers was Brouwerij 't IJ (Funenkade 7, map), founded in 1983. It's hard not to love this place: Located on the eastern outskirts of town under an old windmill, it's all communal wooden benches—inside and out—delicious house beers, many brewed in the Belgian style; and a friendly, low-key vibe of regulars, locals, families, beer nerds, and (smart) tourists getting their drink on. All of its beers are unfiltered, unpasteurized, and top-fermented.
When: The brewery's tasting room is open daily, 2pm-8pm. Tours are offered Fri-Sun at 3:30pm and 4pm (€4,50).
Order: We suggest you start with a sampler of beers (5 for €8), and then move on from there. There are usually about six or seven beers on tap and one bottle available in the proeflokaal, or tasting room (bottled beers are produced at IJ's new, second brewery located down the road). The signature sweet, boozy Zatte tripel (8% ABV)—the brewery's first-ever beer—was a winner, as was the lemon-and-coriander-infused IJwit wheat beer and (seasonal) robust, caramelly IJbok (bock). The pub offers a few local snacks, including ossenworst and an excellent soft cheese produced by area sheep that are fed malt dregs from the brewing process. You'll want to find a seat and get comfortable here.
Other Amsterdam breweries/brewpubs: While perusing the Red Light District, give your eyes a rest at cozy Proeflokaal De Prael (Oudezijds Armsteeg 26, map), the tasting room of the de Prael brewery (located at Oudezijds Voorburgwal 30), established in 2002. The brewery is known for filling its workforce with recovering psychiatric patients and for naming its beers after Dutch folk singers; various tours are offered Tues-Sat (email [email protected] to reserve). New to the city in 2011 is Brouwerij De 7 Deugden (Osdorperweg 578, map); located just west of Vondelpark and named after Catholicism's seven virtues, it offers seven beers, plus seasonals. You can stop in for a sampler or book a tour or a beer-cheese tasting. Two brewpubs round out Amsterdam's brewing scene: De Bekeerde Suster (Kloveniersburgwal 6-8, map), owned by a small chain but offering three house brews among its large beer menu, and Bierfabriek (Rokin 75, map), a spacious, modern brewpub in the center of town with two house beers, self-service taps on tables for groups, and a knack for charcoal-grilled Cornish game hens. Keep an eye out for the funky beers from the newer Two Chefs Brewing, too.
Best beer bars: It didn't take long for Proeflokaal Arendsnest (Herengracht 90, map) to become our favorite beer bar in town: In a city of great Dutch-Belgian beer bars, here is a temple devoted exclusively to Dutch craft beers, with 30 taps and 100-plus beers on offer, from at least 50 different Dutch breweries. You'll find brews from most of the Amsterdam breweries here, making it a convenient one-stop shop, but this is also a great place to explore beyond the city's boundaries, particularly with beers from the esteemed Jopen brewery (which aims to restore historic Dutch styles of beer), out of nearby Haarlem; cult favorite Brouwerij De Molen, from Bodegraven; De Schans, from Uithoorn; and Koningshoeven's La Trappe, the only Trappist brewery in the Netherlands—the other six that exist are in Belgium—and a damn fine one at that (try the Quadrupel if available, and thank us later). Bonus: You can order sample-size servings of any beer on tap, or book organized tastings for larger groups.
Other great beer bars include In de Wildeman (Kolksteeg 3, map), located in a former distillery and offering some 250-plus (18 on tap) beers, largely Dutch and Belgians; and the more Belgian-heavy Gollem's Proeflokaal (Overtoom 160-162, map). Check out this list for more pubs.
The beer store to visit: It's worth swinging by De Bierkoning (Paleisstraat 125, map) near Dam Square to gawk at the 1,500 or so brews for sale, many of which are Dutch or Belgian, and pick up a few bottles for the hotel or apartment. Many of Amsterdam's best local beers are represented here, including Vlo, a Belgian strong pale ale brewed by Brouwerij 't IJ for the shop's 25th birthday (five years ago). You'll even find the Tripel and Dubbelbock from Brouwerij Zeeburg, an Amsterdam-based brewer that currently contract-brews in Belgium (the brewmaster develops his recipes in his home kitchen here).