<< back to foods in North Jersey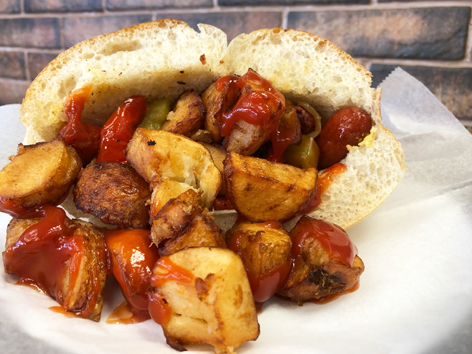 Created by Jimmy "Buff" Racioppi in 1932, the Italian hot dog is a Newark, New Jersey, original consisting of one (but sometimes two!) deep-fried hot dog paired with sautéed onions and peppers. It's stuffed into pizza bread, topped with crispy chunks of potato, and finished off with healthy squirts of ketchup and mustard. Sound filling yet?
This micro-regional NJ hot dog is one of the few where purists might agree to ketchup—on account of the fried potatoes, of course. It's sort of a mashup of a hot dog, fries, and a sausage and peppers sandwich all in one. That and the Italian pizza bread ostensibly led to its name.

Good to know: The real star of this show is the pizza bread: a freshly baked semicircular roll similar in consistency to New Orleans' famous muffuletta roll. The real-deal Italian hot dog is an endangered food. You will find more variations of this dish served on elongated sub rolls, and it's just not the same.
Where: Now in its third generation, Dickie Dee's (380 Bloomfield Ave., map) in Newark is one of the few remaining remnants of the old Italian neighborhood that produced this dish. Since 1958, this corner restaurant has cooked its all-beef Italian hot dogs, made by Best's Provisions in Newark, in peanut oil. Over the years it's added Italian cheeseburgers and even some veggie-only options to its otherwise traditional menu. Cash only.
Order: An Italian hot dog ($4.95), "double" if you can handle it ($7.50)! The bacon cheeseburger is also fantastic here if you can possibly find the space. Exercise your jaw muscles well in advance, as these colossal-size hot dogs will have you stretching the limits of your bites.
Alternatively: Jimmy Buff's has long since left Newark, but his grandkids carry on his namesake and recipes at two Jersey locations (including 60 Washington St., West Orange, map). It continues to cook its Italian hot dogs in soybean oil and stuff them into freshly baked Italian pizza bread with onions, peppers, and thick-cut-chip-style potatoes.
Tommy's Italian Sausage & Hot Dogs (900 2nd Ave., cash only; map) in Elizabeth is another classic North Jersey hot dog joint, but the restaurant's takeout counter and façade make it look like it belongs on the Jersey Shore boardwalk. No matter: Tommy's uses the same all-beef dogs as Dickie Dee's, made by Best's Provisions in Newark. Its fried potatoes are so popular, the restaurant sells "potatoes in a cup" ($1.75) as a standalone item. Don't miss the chili dog too!
(Also be sure to check out the other regional NJ hot dogs we have on the site, including the Ripper and the Texas weiner.)
—Contributed by Adam Horvath (Foodigenous)