<< back to foods in Buffalo & Niagara Falls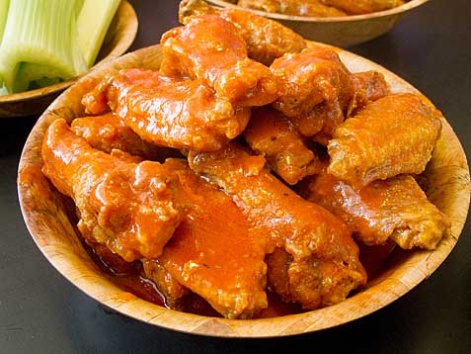 What: Buffalo's most famous culinary claim to fame, wings (a.k.a. hot wings, chicken wings; they're not called "Buffalo wings" in Buffalo!) consist of just that—chicken wings, deep-fried and coated in a spicy sauce traditionally made of a vinegar-based cayenne-pepper hot sauce (i.e., Frank's, Tabasco) mixed with butter, then served with a blue cheese dipping sauce and celery (for health, we presume). Of course, since the Anchor Bar (see "alternatively" section, below) invented the original back in 1964—as one story goes, owner Teressa Bellissimo whipped up the concoction on a whim when asked to prepare something late at night for her son's friends, with limited ingredients in her kitchen (the chicken wings themselves were generally used only in stocks back then)—there have been countless tweaks to the sauce. The result is that you'll find hot wings all over Buffalo, and though they'll be consistently offered in servings of 10 and accompanied by blue cheese and celery, the flavor, heat level, and thickness of sauce will vary widely.
Where: Our photo is from Duff's (multiple locations in New York and Ontario; original location: 3651 Sheridan Dr., Amherst, map), the primary "wing rival" of Anchor Bar that's preferred by many locals. The wings here are spicier, saucier, and a whole lot messier than most, the hot sauce pooling at the bottom of the steaming bowl in which they're served.
When: Mon-Thu, 11am-11pm; Fri & Sat, 11am-midnight; Sun, noon-11pm
Order: The "Famous Wings" (in orders of 10 to 50; $10.25-$47) are offered with sauces that range from "mild" to "death sauce" (an extra $1.75), and the menu's warnings ("medium is hot, medium hot is very hot, hot is very, very hot") are no joke: This is spicy stuff. We could handle the medium-hot variety fine and still enjoy the flavor—vinegary at first, then the heat creeps in. Expect to use a lot of napkins, and definitely wash 'em down with a pitcher of the house amber microbrew ($10.28).
Alternatively: Admittedly, we're more accustomed to a drier, meatier wing, which is perhaps why we loved the ones at Bar Bill (185 Main St., East Aurora, map), in the suburb of East Aurora (about 20 minutes from central Buffalo)—the medium-hot wings (10 for $9.65) were our favorite in Buffalo: crispy and flavorful with a pleasing, not overbearing spice. Despite its tourist-attraction status, Anchor Bar (1047 Main St., map) is still worth a visit as well for any self-respecting wing aficionado out there—"medium" is the original, buttery variety (10 for $11); we also tried its super-peppery "suicidal" version (10 for $13).