<< back to foods in New York City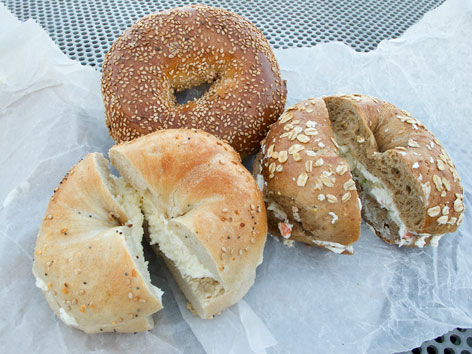 Ah, the New York bagel. It's just a circular piece of chewy bread with a hole in the middle—a simple mix of flour, yeast, malt, water, and salt that's traditionally hand-rolled, briefly boiled, then baked—sliced lengthwise and spread with your favorite "schmear," yet much has been sung of its praises in New York City. From the Yiddish beygel, it was brought here around the turn of the 20th century by Jewish immigrants from Germany and Poland, who long took to the bread for its easy kosher convenience: They could prepare the dough, let it rise during the Sabbath, and then cook it after sundown.
In New York, however, bagels quickly became a source of regional pride, spurring a trade union called Bagel Bakers Local 338 that enforced strict rules as to how bagels in New York shall be made, and who shall make them—it's often said it's "the water" that makes a New York bagel special, but we also have those standard-bearers to thank. Since the 1960s, industrial machines have all but eliminated the hand rollers (and bagel trade unions) of yore, and it's sadly more than possible to get a bad bagel here. But there's no denying the good ones in New York are exceptionally delicious—crisp outside and moist inside; full of yeasty, malty, doughy flavor; chewy without being overly dense or bready. Carbophobes need not apply.
Good to know: A Queens man named David Gussin maintains that he invented the "everything" bagel in a Howard Beach bakery circa 1980. The claim is not without disputes, but we like it anyway.
Where: In Manhattan, we can't pick just one, so here's three we like: the cafeteria-like Pick A Bagel (several locations, including 297 Third Ave. near 23rd St., map); old-school Jewish Ess-a-Bagel (two locations, including 359 First Ave. at 21st St., map); and the yuppier Murray's Bagels (500 Ave. of the Americas at 13th St., map), in Greenwich Village.
When: Pick A Bagel (Third Ave.): Daily, 6am-1am. Ess-a-Bagel (First Ave.): Mon-Fri, 6am-9pm; Sat-Sun, 6am-5pm. Murray's: Mon-Fri, 6am-9pm; Sat & Sun, 6am-8pm
Order: Whatever is freshest, softest, warmest—but keep in mind it's locally considered sacrilege to toast a fresh bagel! Though you'll come across toppings from lox spread to bacon cream cheese, we prefer to keep our bagels simple. Shown above, clockwise from top: the dense, chewy, crunchy-outside, toasty-tasting sesame bagel from Murray's ($1.15 for plain); the plump, doughy, crisp nine-grain bagel from Ess-a, spread with delicious vegetable cream cheese ($3.50); and the flavor-packed everything bagel from Pick A Bagel, smeared with thick plain cream cheese ($2.75). To go full Jewish-style, order the winning combination of cream cheese, smoked salmon, and red onion (see also: smoked fish in NYC ).
Alternatively: On the Upper West Side is the excellent Thai-owned Absolute Bagels (212-932-2052; 2788 Broadway, betw. 107th St. & 108th St., map), a neighborhood favorite since it opened in 1990. In Brooklyn's Windsor Terrace (near Park Slope, across from Prospect Park) is our own former neighborhood go-to, Terrace Bagels Café (718-768-3943; 222A-224 Prospect Park West at Windsor Pl., map), serving addictively fresh, hand-rolled bagels with a chewy crust and moist innards. There's often a line, but it moves pretty quickly. In nearby Park Slope, the moist, crisp product from Bagel Hole (400 Seventh Ave., map) was once crowned New York's best bagel by the Serious Eats website. Among the newer breed of bagel shops, Baz Bagel & Restaurant (181 Grand St., map) in Chinatown gets a lot of well-deserved hype for its malty, hand-rolled specimens.