<< back to foods in New York City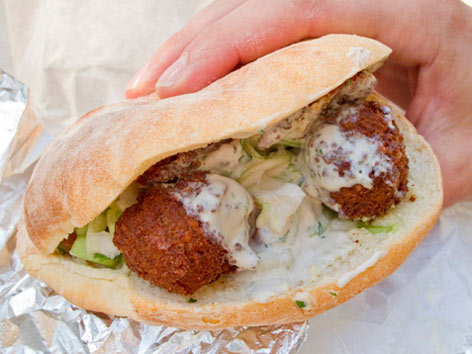 What: A Middle Eastern food that has firmly impressed itself upon New York City's streets, the "falafel" we're referring to is the always cheap and filling falafel sandwich: spiced, fried ground-chickpea balls stuffed into pita or laffa bread with hot sauce, nutty tahini (a sesame-seed paste), and generally some salad-like combination of tomato, lettuce, cucumber, onion, parsley, and/or yogurt. Without getting into the ethnic mire of who-did-what-first, we'll just say this: Variations are usually due to whether a place serves Arabic- (more specifically, Egyptian, Lebanese, Syrian, Palestinian) or Israeli-style falafel; the latter seems to always add more accoutrements to it (like "flavored" falafel balls). We like both styles.
Where: The Israeli-style falafel sandwich at Taïm Falafel & Smoothie Bar (222 Waverly Pl. at Seventh Ave., map), a teeny vegetarian joint on a quiet West Village street, feels a bit more refined than most—perhaps because it focuses on high-quality, fresh ingredients and its Israeli chef-owner, Einat Admony, is a big name in the falafel world. Here, the crispy-outside, moist-inside falafel balls are offered in three varieties—"traditional" green (made with parsley, cilantro, and mint), "not spicy" red (made with roasted red pepper), and "mild spicy" harissa (made with the Tunisian hot sauce). Six of them are joined by a bright Israeli salad (chopped tomato, cucumber, parsley), marinated cabbage, and dollops of hummus and tahini in your choice of white or wheat pita. (The staff recommends the white pita, and we trust them on that.)
When: Daily, 11am-10pm
Order: We like the harissa falafel on white pita ($6.25)…but you can't go wrong with any of these fried chickpea delights. If you want it spicy, you have to request the hot sauce—called s'rug, from Yemen—at no extra fee; amba (fenugreek and pickled mango sauce) and pickles are also available by request. If you're not feeling like a sandwich, the falafel platter ($12) and hummus with toasted zahatar bread ($5.50) are immensely popular here. Don't leave without trying a smoothie: the date, lime, and banana variety is refreshing and delicious, with little chunks of dates.
Good to know: With the Taïm Mobile truck, you can now find this falafel all over the city. Check its Twitter page for the day's location.
Alternatively: Two alternatives we like both happen to be award-winning street vendors: In midtown, there's the rolled-up falafel sandwich ($4.50) from Kwik Meal #1, a cart on 45th St. and Sixth Ave. (map) run by a former Russian Tea Room chef—though don't be surprised by the comparative lack of veggies and the tzatziki instead of tahini dolloped on top (we think it works deliciously when you request some of their spicy, minty green sauce mixed in). In Queens, look no further than the aptly named King of Falafel & Shawarma in Astoria (30th St. and Broadway, map), where the delicious $4 Palestinian-style sandwich is filled with crisp, oblong falafel, pickled turnips, lettuce, onion, crunchy pickles, and homemade tahini and hot sauce (bonus: the King has a newer Midtown Manhattan cart at 53rd St. and Park Ave., map, where the falafel is just as good!).