Halal chicken and/or lamb over rice
<< back to foods in New York City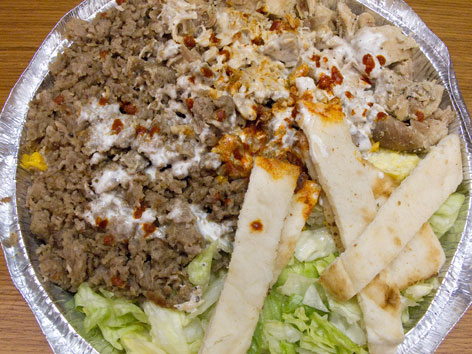 What: Long-grain basmati or yellow rice served with chopped chicken and/or sliced lamb gyro, plus fiery hot sauce, white sauce, lettuce, tomato, and a bit of pita bread. Also called, rather appetizingly, "street meat," or just "halal food," referring to its compliance with Islamic law (similar to Jewish law's kosher rules), as the omnipresent carts dishing this out are nearly always run by Muslims. What started as suitable cheap-and-filling late-night fuel for the city's cabbies has blossomed into a street-food empire craved by locals and tourists alike. Before all the gourmet food trucks moved in, this was New York's ultimate street food.
Where: Like most things, all street meat is definitely not created equal. A hugely popular operation, where you can expect quality, great-tasting, not-overly-greasy meat, is The Halal Guys (multiple locations around the city, including the original cart at 53rd St. and 6th Ave, map), started by a couple of guys from Egypt back in 1990. For the Halal Guys, what started as a single food cart (selling hot dogs, no less) has blossomed into a global enterprise. When in doubt in the sea of copycats, keep an eye out for the yellow bags and T-shirts the staff always wear.
When: Daily, 10am-4am. Though we enjoy this for lunch, it is all the more amazing late at night after a few drinks.
Order: We are fans of the generous chicken and lamb combo platter ($6) here, with everything. The red sauce is seriously fiery, so mix it well; the white sauce (somewhere between mayo and yogurt), salad, and bread help to balance flavors. Make sure to eat it while it's still hot—it seems to cool quickly, and cold orange rice and lamb just doesn't work. Of course, you can also order just chicken or just lamb, or go for the meat wrapped in pita.
Alternatively: The award-winning Kwik Meal #1, a cart nearby on 45th St. and 6th Ave. (map) that's famously run by a former Russian Tea Room chef, also turns out great chicken-and/or-lamb platters that are notable for their inclusion of "real" hunks of lamb as opposed to the more usual sliced gyro meat. In Queens, there are two excellent halal stands that have likewise garnered attention in the city's street-vendor world: the flagship Sammy's Halal in Jackson Heights (73rd St. and Broadway; map; don't miss their green sauce), and the King of Falafel & Shawarma in Astoria (30th St. and Broadway, map).