<< back to foods in New York City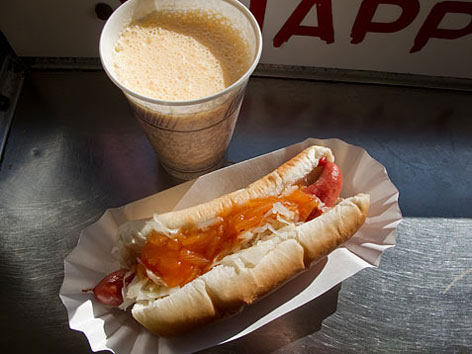 What: What's more quintessential New York than a hot dog scarfed down on a bustling street corner? Of course we have Germany and Austria to thank for "frankfurter" sausages, but it was 1870s Coney Island, when a German immigrant started selling hot dogs, where it all began for New York. That immigrant's business invited competition a few decades later, spurring a Polish immigrant named Nathan Handwerker to open Nathan's Famous in 1916—and it turned out New Yorkers like their wieners!
True New York hot dogs are all-beef, natural-casing dogs, many of them made by Sabrett, whose parent company, Marathon Enterprises, is based just across the river in Englewood, NJ (Sabrett became the hot dog of choice for the city's pushcarts around the 1930s). Another interesting thing to note about New York dogs is the ubiquitous tangy, tomato-based onion-sauce topping, native to the city and now made by Sabrett as well.

Which brings us to another point: New Yorkers do not typically put ketchup on their hot dogs! Here it's mustard, sauerkraut, and that onion sauce. But in a city of this much diversity, you will not be scorned for reaching for the red. To each his own.
Where: Since 1973, Gray's Papaya (two locations including 2090 Broadway, nr 72nd St., map) has focused on two things: griddled all-beef, natural-casing Sabrett hot dogs and tropical fruit drinks—namely papaya juice, which has evolved into a classic pairing with hot dogs ever since Papaya King combined the two under one roof on 86th Street in the late 1930s. In more recent decades Gray's Papaya has become beloved as well for its "recession special" deal: two hot dogs and a fruit drink for an ever-changing low price. (The special began in the '90s at $1.95; it's currently $6.95—a far cry from the nickel dogs that Nathan's started out selling a century ago.)
Good to know: Gray's used to be a bigger Manhattan mini-chain, but two of its branches have closed since 2011, including its iconic outpost on Sixth Ave. in the West Village. Nowadays there's the Upper West Side location and one in Midtown on Eighth Ave. at 40th St.
When: Gray's is open 24 hours a day.
Order: The hot dogs ($2.95 each) are pretty small here, so the recession special is never a bad idea (if you're thirsty for a 14 oz. drink, anyway). Definitely try the papaya juice—frothy, light, and not too sweet, it somehow makes sense with the snappy dog, which we prefer to dress with mustard, sauerkraut, and the sweet saucy onions.
Alternatively: The ubiquitous street hot dog works in a pinch, but while you can still get the traditional mustard, sauerkraut, and onion-sauce toppings, you will likely be served a boiled, skinless Sabrett dog, with no snap. It still hits the spot when you need it! If you have the luxury of time, get down to Coney Island for the Nathan's Famous original (1310 Surf Ave., map), preferably in the summer when you can soak up the salty atmosphere. Also venerable is the crisp frankfurter at Katz's Delicatessen (205 E. Houston St. at Ludlow St., map) on the Lower East Side.
Then there's the new school of NYC hot dog obsessives, best exemplified by the creative menu at the East Village's Crif Dogs (113 St. Marks Pl., betw. First Ave. & Ave. A, map), the must-try of which is the addictive Spicy Red Neck (a deep-fried dog, bacon-wrapped topped with chili, coleslaw, and jalapeños)—one of our favorite guilty late-night pleasures. There are also countless international spins on hot dogs that you can find in Queens, from Colombian dogs to Korean dogs.
Good to know: For a twist combining two beloved NYC foods, try the pretzel dog at The Rusty Knot (425 West St. nr. W. 11th St., map)—like a giant pig-in-a-blanket, it's a house-made pretzel wrapped around a Sabrett's hot dog.