Local New York City spirits
<< back to foods in New York City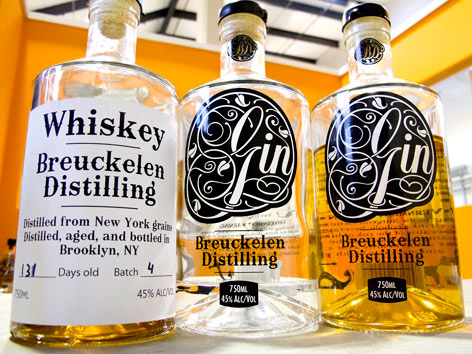 What: Gin and bourbon and moonshine, oh my! As if New Yorkers needed more incentive to go out (or stay home) and drink hard alcohol, now they can do it with fine, locally made artisanal spirits. Since 2010, microdistilleries have begun making a big comeback in NYC—in locavore-centric Brooklyn, specifically—for the first time since those distilling-friendly days before Prohibition. Drink better-quality spirits and support small-scale producers/celebrate tradition/save the planet? Sign us up!
Good to know: Besides the fact that locavorism in general is enjoying great popularity in NYC these days—and Brooklynites tend to want to name everything under the sun after their borough—the most thanks for this local-spirits resurgence goes to the state legislature, which since 2002 has made distilling permits inexpensive and easy to obtain (and, in a smart boost to local agriculture, requires that the majority of distillers' ingredients are grown in New York state).
Where: The last few years have seen such a boom in artisanal booze that we have lost count of the new distilleries! Most are based in Brooklyn, with the exception of Tirado Distillery (888 E. 163rd St., map), offering whiskey and rum out of the Bronx. Pictured is the gin (now called Glorious Gin) and whiskey from Breukelen Distilling (77 19th St., Brooklyn, map), located near the Gowanus waterfront in Sunset Park, between Red Hook and south Park Slope (and not to be confused with the excellent, artisanal Brooklyn Distilling Co., out of Warwick, NY, in the Hudson Valley).
Then there's Kings County Distillery (Brooklyn Navy Yard, Bldg 121, Brooklyn, map), the city's first distillery to open since Prohibition, doing bourbon, whiskey, and award-winning moonshine (unaged corn whiskey) out in East Williamsburg; New York Distilling Company—the brainchild of Brooklyn Brewery co-founder Tom Potter (see: local craft beer)—which has an on-premise bar, The Shanty (79 Richardson St., map), doing house-distilled gin and rye whiskey cocktails, in Williamsburg; and Sunset Park's Industry City Distillery (33 35th St., Unit 6A, map) with impressive built-from-scratch digs/equipment and a new sugar-beet vodka called Industry Standard on shelves.
Over in Red Hook there are two young distilleries: Cacao Prieto (218 Conover St., map), producing cacao liqueurs and rums made from organic Dominican sugarcane and cacao beans from the distillery's family orchard in the Dominican Republic, and Van Brunt Stillhouse (6 Bay St., map), with artisanal rum, whiskey (including an excellent rye whiskey), moonshine, and grappa. Also distilling in Brooklyn (although founded in Harlem) is NYC's first absinthe distillery, Doc Herson's Natural Spirits, offering several varieties of the (not only green) fairy.
When: Breukelen Distilling's offers tours and tastings on a limited basis for now; check the website for updates. Kings County Distillery is open for informal tours ($8, includes tasting) every Saturday from 2:30pm-5:30pm; weekday tours are available by appointment. New York Distilling Company offers tours on weekends between 3pm-5pm; The Shanty is open Mon, 6pm-midnight; Tues-Fri, 6pm-2am; Sat, 3pm-2am; Sun, 3pm-midnight. Industry City Distillery is not quite finished building yet, but offers free tours and tastings every Sunday afternoon (email [email protected]). Up in the Bronx, Tirado Distillery holds tastings every Wed (5:30pm-7pm) and Fri (9pm-11pm); call 917-974-0380 to reserve. Van Brunt Stillhouse's tasting room in Red Hook, Brooklyn, is open Thurs-Fri, 4pm-9pm; Sat, 2pm-9pm; Sun, 2pm-6pm.
Order: Pictured above is what Breukelen Distilling offered during our visit: its whiskey, signature gin (now called Glorious Gin), and an oak-aged gin (tastings $3; free if a bottle is purchased). Bottles will vary from time to time, but Glorious Gin is a constant presence. Made from scratch with organic whole wheat grown in upstate New York (to form the base alcohol) plus a cornucopia of botanicals—not only juniper, but also dried grapefruit, lemon peel, rosemary, and ginger—it is citrusy, herbal, elegant, and smoothly sippable.
Alternatively: If you can't make it to the distillery tasting rooms or bars, several city liquor stores sell their products—Astor Wines & Spirits (399 Lafayette St. at E. 4th St., map) downtown and Midtown's Park Avenue Liquor Shop (292 Madison Ave. betw. 40th & 41st Sts., map) are reliable sources (you can order online as well), but check the distilleries' websites for more options.