<< back to foods in New York City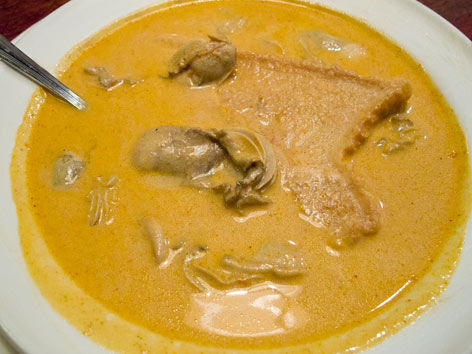 The oyster pan roast is perhaps the most historic New York City dish there is—and yet there is just one reliable place to try it.
Don't be fooled by the archaic nomenclature: There's nothing "pan roast" about this century-old NYC dish. It's actually more a delectably rich soup, in which plump oysters and a soaked slice of toast float in a simple concoction of butter, cream, Worcestershire sauce, paprika, celery salt, and tomato-chile sauce. Tucking into a hot bowl of this velvety richness calls to mind a simpler time in Manhattan, when indigenous oysters were still plentiful and "uni" wasn't yet a part of our collective seafood vocabulary.
According to William Grimes in Appetite City: A Culinary History of New York, during the first half of the 19th century the city's culinary culture revolved around the "perfect" plump New York oyster, plucked from New York Harbor, the Raritan River (in New Jersey), and the Long Island Sound. Raw oysters, roasted oysters, pickled oysters, fried oysters, oyster stews, oyster-stuffed turkeys—New Yorkers had at least 20 different ways of preparing their oysters. Six-cent "all you can eat" oyster bars lined Canal Street, and oyster carts, rather than hot dog stands, crowded the sidewalks.They were the great leveler of society, popular (and cheap enough) to appeal to the street urchins and luxury diners alike.
"Oysters, as everyone knew, were to New York what the lobster was to Boston and the crab to Baltimore—the local food par excellence," writes Grimes. It used to be that (the original) Fulton Market was the center of oyster activity. Now you must go to Grand Central for the closest (and only) approximation to the oyster cellars of yore.
Where: Oyster pan roasts, and countless other oyster dishes, have been served at Grand Central Terminal's venerable Oyster Bar & Restaurant (89 E. 42nd St. nr. Park Ave., lower terminal, map) since 1913, when the landmark building opened. (In 1999, this spot won the James Beard America's Classics award, which honors beloved locally-owned establishments serving quality food.) History aside, even the physical making of this dish is entwined with the building, as it harnesses the steam power that emanates from the station's bowels: As our unionized waiter explained, the cooks use original steam-jacket kettles to heat the ingredients, which ensures that the temperature never rises above 250 degrees and the cream never curdles. If you sit at the main oyster bar, you can watch both the shuckers in action and the pan roasts being prepared.
Good to know: In 1880, the city's oyster beds still produced 700 million oysters a year. With industrialization, however, came pollution, and oystering was officially banned here in 1916, when bivalves were thought to be tied to typhoid fever. Though the Oyster Bar opened three years prior, it never sold NYC oysters. Long Island Blue Points are among the few local oysters of that time that still remain today.
When: Mon-Fri, 11:30am-9:30pm
Order: The oyster pan roast ($16.45), which comes with eight Blue Point oysters, a triangle of toast, and a whole lotta soup. (Note that the "oyster stew," 50 cents cheaper, is nearly the same thing as the pan roast minus the slight spice from the chile sauce.) You can also swap out the oysters for clams, shrimp, or scallops in the stew and pan roast if you're not an oyster fan.
Start off with a dozen oysters from the raw bar; there's always a large selection available from both coasts, including some from Long Island and Connecticut—which is as locavore as New York can get these days when it comes to oysters. Or try the fried oysters and Manhattan clam chowder. For dessert? It's gotta be the homemade New York cheesecake.
Alternatively: There's not really an alternative to the quintessential oyster pan roast experience—you kind of need to be here in this historic, sprawling, cafeteria-like space, underground beneath the illuminated tile arches. Let us know in the comments if you find another one!