<< back to foods in Philadelphia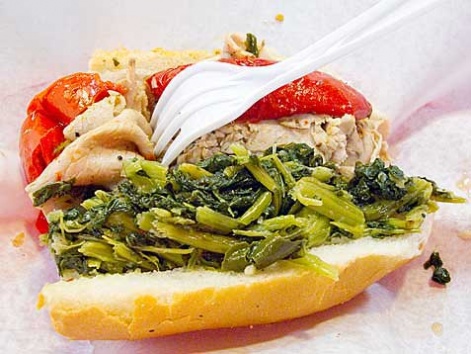 What: Locals will tell you that roast pork is the real Philadelphia sandwich: thin-sliced, juicy slow-roasted pork piled onto a hoagie roll with sharp provolone cheese, garlicky greens (broccoli rabe or spinach), and a sweet or hot pepper. We have to agree it's an incredible specimen of a sandwich, iconic for good reason. It's a deceptively simple but genius combination of Italian ingredients that may just have you saying, "Cheese what?"
Where: If you are inside historic Reading Terminal Market (45 N. 12th St., map) wondering what you need to eat there, DiNic's should be your first stop. It's famed for its roast pork sandwich, as its long lines attest, and rightfully so: The meat's tender, the bread holds up well to the juices, the rabe is generously portioned, the provolone is just sharp enough. And you can add a bright and beautiful shock of roasted red peppers to the mix (or a long, fiery green pepper). Sitting at the countertop here with a roast pork sandwich is pretty much a Philly rite of passage.
When: Mon-Sat, 9am-6pm; Sun, 9am-4pm. Try to arrive at least a few hours before closing, especially on weekends, as they sometimes run out of ingredients.
Order: The roast pork sandwich ($9.75) with sharp provolone, roasted peppers, and broccoli rabe ($1 per topping). The broccoli rabe has a nice, tart bite; it's a bit more flavorful than spinach, also often available here. If you like spice, make good use of the hot peppers on the counter. There are also Italian sausage sandwiches, and plump beef-pork meatball sandwiches—if you're craving more meat after your roast pork, go for the latter, which is likewise sharpened up by some melted provolone.
Alternatively: If you have access to a car, you can try two other contenders for best roast pork, both in South Philly: Tony Luke's (multiple locations including 39 East Oregon Ave., map) peppery "Italian roast pork" and John's Roast Pork (14 East Snyder Ave., map), where spinach is your only greens options (order your sandwich large, as the small comes on an inferior kaiser roll).