Looking for a unique food tour in NYC? In Jackson Heights, Queens, we offer small group walking food tours, food tours specifically for families/kids, food tours for school groups, and team-building food tours for companies.



Papri chaat, Jackson Heights. Photo: Sam Kolich
**ALL FOOD TOURS ARE TEMPORARILY SUSPENDED UNTIL FURTHER NOTICE DUE TO PUBLIC HEALTH CONCERNS.**
For about eight years now, we have taken people on informal and formal food tours of Jackson Heights, the incredibly diverse Queens neighborhood we've called home for more than a decade. It's all been for the love of the food and the love of the neighborhood, but over the years our tours have grown to accommodate a wide range of eaters: company teams, school groups, families with young children. The theme that runs through every tour we give is cultural diversity, as we take guests through the foods of many of the immigrants who have landed here in Jackson Heights (and nearby Elmhurst): India, Bangladesh, Pakistan, Nepal, Tibet, Colombia, Mexico, Thailand, and more. It's truly a world food tour right in NYC, making it a perfect extension of our world food website!

Who's it for: Curious, open-minded, adventurous food lovers who want to get off the beaten path and experience a truly local perspective of a non-trendy, super diverse part of Queens (a slice of real NYC, if you ask us). This Jackson Heights tour is a fantastic way to explore foods from various countries in a neighborhood that's always eye-opening for both tourists and fellow New Yorkers. We take all the stress out of planning a Queens food adventure, because we do the work for you!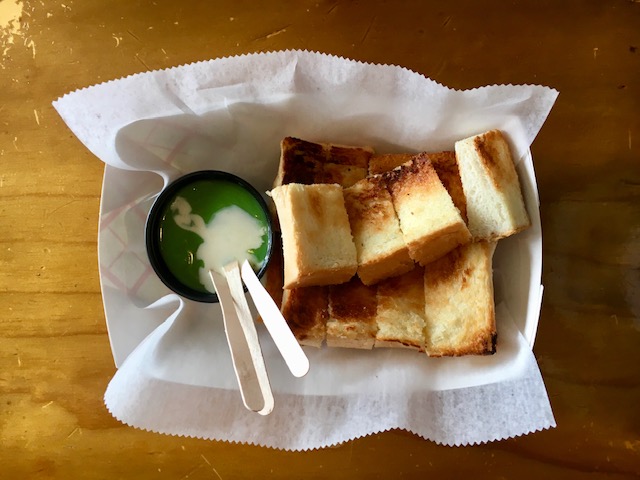 "Thai toast" with pandan cream (aka kanom pang ping)

What: Food tours of Jackson Heights, Queens, which sometimes dip a bit into nearby Elmhurst. During the tour we'll hit up anywhere from five to 8 of our favorite local spots, depending on which tour you book, that best represent the neighborhood's unique diversity. Think papri chaat and patra (India), pan de bono and arepas (Colombia), momos and sel roti (Tibet and Nepal), and much more.
Where: Jackson Heights is easy to get to from midtown Manhattan via the E, F, 7, R, or M train (stop is 74th St./Roosevelt Ave.). It's about a 15-minute ride from midtown. Detailed directions will be provided if needed.
When: We have several tour options. Email [email protected] to request a date and book a tour!

1. Weekday tours. These are offered on weekday afternoons (typically beginning around noon or 1pm): $60 for 2 hours, 6 stops, minimum 2 people. Includes all food.

2. Weekend tour: Select weekends only! 3 hours (1pm-3:30pm), 7 stops, 4-person minimum. Cost: $65 per person, including all food.

Upcoming available WEEKEND tour dates:
Sun, Feb. 9, 1:30pm
Sun, Feb. 16, 1:30pm
Sat, Feb. 29, 1:30pm
Sat, March 28, 1:30pm
Sun, April 5, 1:30pm
Sat + Sun, April 18-19, 2pm
Sun, May 3, 1:30pm

Want to go it alone? We won't be offended! We also have a self-guided food tour of the original 10-stop, three-hour tour we used to do for large groups, available for $29.99 on our NYC Food Itineraries page. There's plenty of room for you to pick and choose from those 10 stops if it's too much food! This tour is best for people who cannot make an in-person tour, or just really prefer to taste on their own time. The in-person tour offers a lot more insight, of course, but if you just want to follow some directions and eat some food, go for it.
Email [email protected] to book!
Specialty tours:
1. Team-building/company tours: Bring your small work group (8-12 people is ideal) out to Jackson Heights for a one-of-a-kind shared eating experience! Get in touch for details.
2. Food tour for families/kids: This tour is best suited for kids age 5 and up (with a parent). We'll hit up four eateries representing four different countries and learn a little bit about each one as we go. There's a scavenger hunt and prizes! Parents eat too. $40 per adult; $30 per kid age 2+.

3. School group tours: We can accommodate groups of up to about 20 people (the eateries we visit are small!), but we've had luck with universities sending multiple small groups in back-to-back 20-person tours. We will do our best to accommodate—if your group is larger, still get in touch so we can discuss. This tour and the neighborhood are ideal for students learning about immigrant communities, food culture, sociology, and more. It's a great educational experience outside the classroom.

See this write-up from Adelphi University about the food tour we recently led for freshman students.

Why an Eat Your World tour? This Jackson Heights food tour is the only one we give. It's our specialty. It's our home neighborhood, where we live, work, and raise our children. We know it very well! We are not a big corporate tour company spread out across the city. We personally lead every tour that's booked. We're (literally) a mom-and-pop shop, and we visit the eateries we love. Moreover, we are different from every other tour operator we know in two other ways: We donate a portion of our tour proceeds back to the neighborhood (via a local immigrant-rights nonprofit; see details below), and we make efforts to "green" the tour via things like compostable utensils and bowls, and reusable containers where possible.

Email [email protected] with any questions!

New! Gift certificates are available! Give the gift of an incredible food experience to someone you know. Get in touch to request this; we can email or mail it out.






**PLEASE EMAIL [email protected] FOR AVAILABILITY.** And if you don't see what you are looking for here (i.e., an evening tour), please ask. We can often accommodate special requests.

Good to know: As part of our Feed Your World initiative, a portion of all profits is donated to Make the Road New York, a nonprofit org with local offices that we've marched alongside with in area protests. Make the Road works to protect the rights of immigrants and working-class families here and across NYC, including in the areas of: workplace justice, tenants' rights, immigrant civil rights, language access, LGBTQ justice, public education, health care access, and immigration reform.
Special requests: Most dietary restrictions can be accommodated; we've worked with vegetarian, halal, gluten-free, and dairy-free guests, as well as celiac eaters and those with peanut allergies. Children are welcome on the regular food tour, but a lot of the food is at least a little spicy—we recommend booking our family food tour for a better experience that engages everyone. Strollers are recommended for young kids; we walk down some crowded streets.

Hi, I'm Laura!
Stuff we have to say: By purchasing or participating in an itinerary or food tour from Eat Your World (EYW), you (i) understand and agree that EYW is not responsible for anything consumed (e.g., food or beverages) on your tour, or any accidents, injuries or other loss that may occur during your tour; (ii) waive any and all claims of liability against EYW and its owner-operators, for any reason; use of the itinerary and/or participation in an EYW tour is at your own risk; and (iii) grant EYW a worldwide, perpetual, royalty-free fully paid license to use any photographs or other likeness of you taken while you participate in a EYW tour.


TESTIMONIALS
Small group food tours

"DO THIS TOUR. It was incredible! I truly felt like I was in a new world experiencing a new culture. Laura was a local expert and took such pride in her neighborhood. This was wonderful for locals and visitors alike!"—Rebecca from NC (Sept. 2019)

"We had such a great time with Laura! She has so much knowledge about the history of the area and gave us such a special and personal tour. We tasted amazing things we've never eaten before, and we ate in places we never would have gone into ourselves. Truly a local experience full of hidden gems. She accommodated our gluten and dairy allergies perfectly, and we felt completely safe in her hands. Thank you so much!"—Grete from Oslo (July 2019)

"In a little over two hours, we felt like we had traveled with our guide, Laura, around the world. Jackson Heights is Laura's neighborhood and happens to be one of the most diverse neighborhoods in NYC. Laura loves it all and is a student of its people, culture, and history. What a beautiful mosaic smorgasbord of food! From India, Bangladesh, Nepal, Tibet, Colombia, Thailand—and some I may be missing. We ducked into small restaurants, eating dumplings, chaats, fresh-baked bread, Thai dessert, chatting with the cooks and owners, watching street musicians and local dancers, and soaking up all the festive neighborhood vibes. It was a fabulous time—and delicious. Laura is a great teacher and travel companion. One of the best food tours EVER. Highly recommended!!" —Joy from Cincinnati (May 2019)

"Laura is absolutely amazing. Not only is she just a great person, but she knows the neighborhood inside and out. The food selection was perfectly varied and she knew based on speaking with us exactly what we would appreciate the most. If you have the chance I would highly recommend spending time with Laura. Thank you." —Holly from Delaware (Dec. 2018)

"We had a wonderful experience with Laura. She knew the places, the people and the best things to eat. She was able to adjust the tour to accommodate dietary restrictions. She is knowledgable about the neighborhood, has a lively manner and good sense of humor and adventure. We would highly recommend any tour she put together." —Jude from Philadelphia (Nov. 2018)

"We loved to experience this wonderful trip. Laura is an exceptionally good and fun guide, giving us an insight into other cultures that we would otherwise never have experienced. Laura, thanks, we went home to Iceland with wonderful memories." —Sigríður from Iceland (Nov. 2018)

"If you're looking to see a side to NYC that's off the grid, this is the perfect experience. Laura was a great host and knows all the top spots to try authentic diverse food. We went to areas in Queens that as a tourist, you would never know about. And the food was sensational!!!" —Jasmine from Australia (Sept. 2018)

"We had an amazing and at the same time cosy tour with Laura and Scott! As we only landed on US ground the day before, soon we felt like real locals, strolling through the melting pot of Queens. The journey along the different countries, cultures and flavours was worth it every minute. Bites from India, Bangladesh, Tibet, Nepal, Colombia, Mexico and many more surprised us time after time. Laura and Scott are professional tasters, good storytellers and friendly locals, chatting with us as a group and the neighbours in their hood. Definitely a perfect way to explore and taste some New York off the beaten track!" —Martje and Lotte, from the Netherlands (Oct. 2016)
"Scott and Laura treated a group of friends and me to a unique, delicious, and, most of all, fun food tour of the Jackson Heights neighborhood of Queens. The selection of foods was impeccable and ranged from Indian-inspired street food to Thai desserts and so much in between. They brought an authenticity and a passion to the experience that we never could have captured with a self-guided tour. In addition, their personalities were such that we felt like we were spending the day with friends (admittedly, really cool, well-traveled, funny, and hospitable friends) as opposed to taking a tour with formal guides. I am already planning to take another group of friends back to visit Scott and Laura and try even more of the awesome food in their neighborhood." —Anastasia from NYC (June 2015)

School group food tours
"Laura put my idea to 'break bread and build bonds' into action. She accommodated a class of first-year seminar college students, including food allergies and aversion to spicy food! I appreciated how Laura and Scott introduced students to the neighborhood through cuisines they might have never tried on their own. Laura attended to student's curiosities about the food they were eating, while highlighting the immigration trends that make Jackson Heights a culturally diverse neighborhood. I look forward to working with Eat Your World again." —Jacqueline Olvera, assistant professor of sociology at Adelphi University

"I loved everything about the food tour. I thought it was really cool tasting different types of meals that I never would imagine myself eating. It was great to experience different cultures in real life instead of a classroom setting." —Adelphi U student (Sept. 2019)
"The food tour was a very exciting experience for me. I'm thankful to have tried so many delicious foods, especially from cuisines I've never eaten before. I definitely plan to eat a broader variety of foods on a regular basis now! I learned about Jackson Heights' diversity. I had bonded lots with my classmates by the end too!" —Adelphi U student (Sept. 2019)

"This field trip was an amazing experience. I live only 20 minutes from the food tour and I've never seen any of it before. It felt like I was in a completely different country, from the stores to the people and the clothing they were wearing. It taught me about what these different cultures eat and that many of them use similar ingredients, like cilantro and many spices." —Adelphi U student (Sept. 2019)

"Thank you for taking us to eat different kinds of food. We all appreciate how much you helped us. You inspired me to try new things. You opened our eyes and now I'm never afraid to try new things." —Ethan, age 9 (Oct. 2015)

Team-building food tours
"The team had a great time, it was a hit!" —Brooke Lavery, The Local Foreigner (May 2019)

"Our work team thoroughly enjoyed the food tour led by Laura and Scott. In addition to wonderful food, we were provided interesting details of each country's cuisine. We tried so many different things, I wouldn't be able to pick a favorite dish! Laura and Scott were also very flexible—they were more than happy to add a beer stop to our tour upon a last-minute request. We left feeling full and happy. I plan to recommend the tour to friends and other work groups." —Ann Kane, charity: water (Oct. 2017)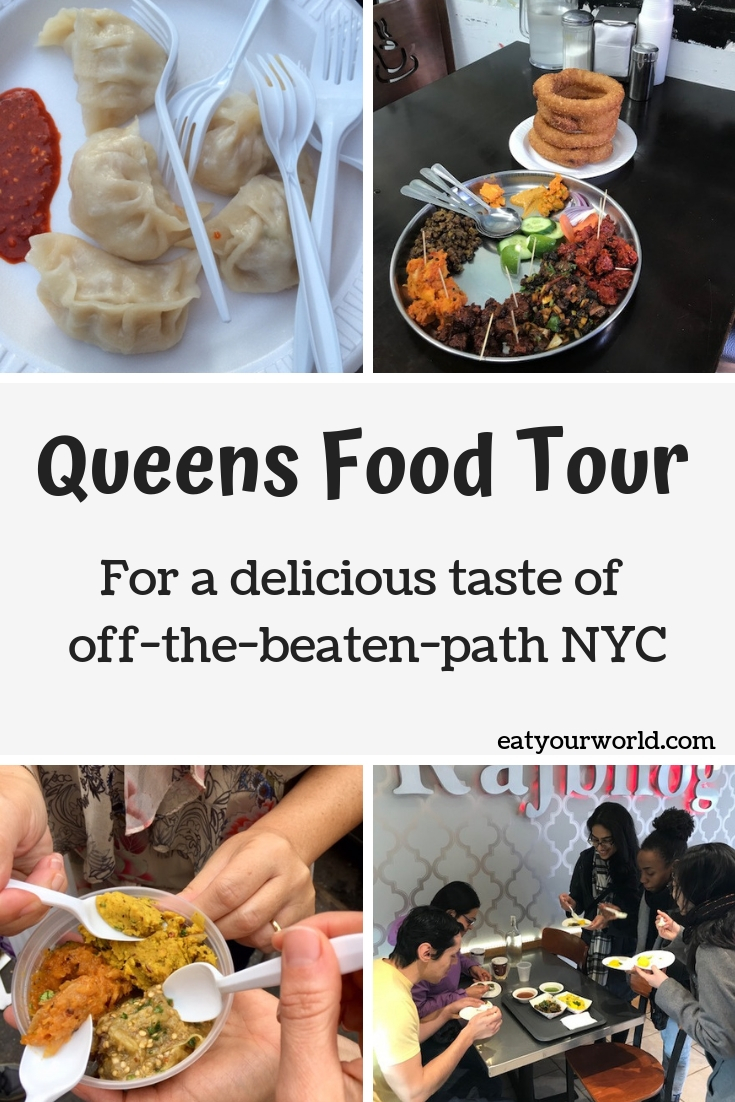 Digging into some Nepali food.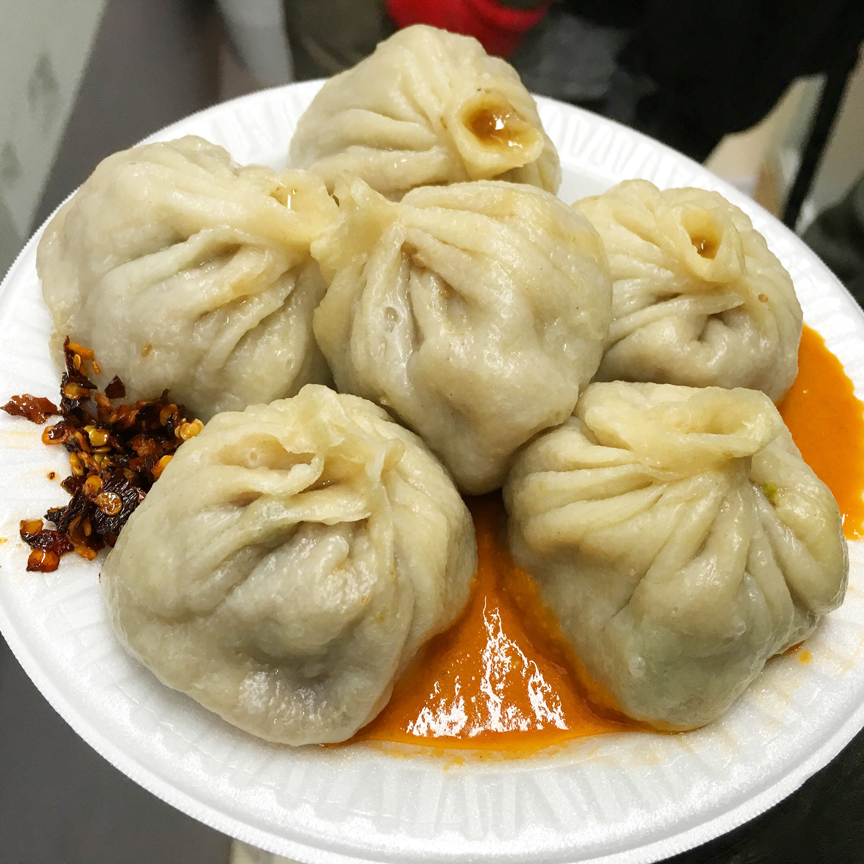 Tibetan momos in Jackson Heights