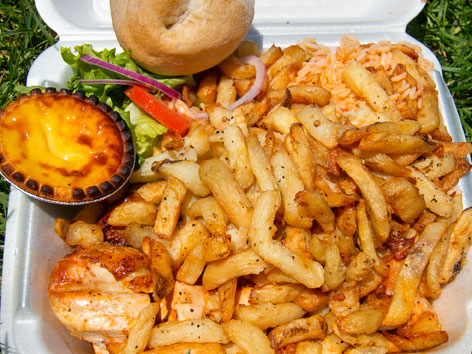 What: It's not native to here, but Montréalers have a pronounced soft spot for Portuguese chicken, a marinated and grilled rotisserie-chicken dish served with (optional) spicy piri-piri sauce. Piri-piri is the Swahili word for "pepper-pepper," referring specifically to a chile brought to East and South Africa and South Asia, where it's grown today, centuries ago by Portuguese colonists (who likely first encountered the peppers somewhere in the Americas). And although this preparation with chicken is associated with and served in Portugal (generally as frango piri-piri), it originated in Mozambique—in fact, it's also called galinha à Africana, or African chicken, within Portugal, as well as in Macau, another former Portuguese colony. So why should you eat it in Montréal? The Portuguese are a big immigrant group here, and this is definitely their most widespread contribution to the local culinary scene: Between the handful of beloved corner shops dealing in it and its popular status as a cheap and delicious takeout item, Portuguese chicken has evolved into an iconic Montréal dish in its own right. Dig into a saucy plate of tender meat and salty fries and you'll quickly understand why.
Where: Our takeout Portuguese chicken is from Rotisserie Romados (514-849-1803; 115, rue Rachel Est, map), a fluorescent-lit institution with a menu in French and Portuguese that doubles as a bakery—so you can imagine the incredible smells that waft out of this place on a regular basis. The chickens are butterflied, marinated, and grilled in cagelike contraptions that rotate over smoky coals. Romadas has limited seating and isn't much to look at, but it's conveniently located within striking picnic distance of Parc du Mont-Royal.
When: Mon-Wed, 6:30am-9pm; Thu-Fri, 7am-10pm; Sat-Sun, 7am-9pm
Good to know: There's quite often a long line at peak lunch/dinner hours here. In-the-know locals call ahead to place orders for pick up, and skip the lines.
Order: Pictured is the 1/2 chicken complete plate ($7.99), which includes salad, rice, and salted, spiced fries (1/4 chicken, with choice of breast (poitrine in French) or thigh (cuisse), is also available as a platter; whole chickens are offered alone); be sure you get it with hot piri-piri sauce, which is brushed generously on top. The salad and rice are squeezed into the corners of the Styrofoam container, the juicy chicken placed in the middle, and the fries dumped on top, and before long the whole thing melds into one addictively tasty, spicy, saucy dish. It comes with a soft Portuguese roll on the side, as well as a sweet, creamy egg tart.
Alternatively: We've heard great things about the spicier bird down the street at the equally beloved Portugalia (34, rue Rachel Ouest, map), where the menu's slightly more extensive. However, it's suggested you place your chicken order an hour ahead of picking it up or, if dining in, expect a similar wait (there are some appetizers, bread, and beer to keep you occupied in the interim).