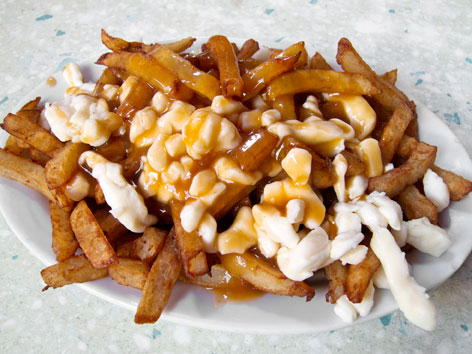 Perhaps Québec's most famous native specialty, poutine ("pooh-tin") is a simple dish of French fries topped with fresh cheese curds and hot gravy. Dating to around 1957, most likely in the dairy town of Warwick, poutine is the ultimate greasy, satisfying, sop-up-the-alcohol fast food—it's no wonder it is most often the charge of late-night diners and dives.
But something funny has happened with this dish: As the city's cuisine has matured, so too has poutine...as much as gravy-smothered fries can, anyway. While the dish has always leant itself well to a wide range of other ingredients and add-ins, some chefs, following the cue of Martin Picard and his foie gras–topped poutine at Au Pied de Cochon, have taken it up a notch with more gourmet—though equally heart-stopping—renditions. Here, we'll briefly explore both kinds of poutine, the classic and the highfalutin.
Where: Our classic poutine comes from one of the best poutine-centric diners in town: La Banquise (994, rue Rachel Est, map), a funky indoor/outdoor 24-hour joint that's been feeding snack food to the Plateau-Mont Royal neighborhood since 1968. In 2006, the colorfully decorated restaurant expanded in space and menu, adding breakfasts and regional microbrews to the mix. At last count, La Banquise offered 28 different varieties of poutine (including one with vegetarian gravy).
When: 24/7
Order: This is a wonderful spot to try La Classique ($6.50 for small; $10.25 large), which La Banquise has sold since the early 1980s (note that the large is quite massive). The fries are meaty and just crisp enough; the fresh curds soft and plentiful; the beef/chicken gravy savory and not overly salty, a common poutine misstep. Thanks to said gravy, the fries get soggier the deeper you get into the plate, if you're into that sort of thing. Our group found ourselves quite literally unable to stop pulling out fries from the delicious wreckage.
Of course, La Banquise is also a great opportunity to try a more nacho-like nontraditional poutine, perhaps an Italian or Mexican style or one of the many that come loaded with some carnivorous combination of bacon, pepperoni, sausage, chopped hot dog, and/or hamburger meat. We enjoyed La Kamikaze, a spicy mix of merguez sausage, hot peppers, and Tabasco sauce atop the usual gravy and curds.
Alternatively:
For classic poutines:
We've heard excellent things about the poutine at teeny Patati Patata (514-844-0216; 4177, blvd. St. Laurent, map), a cheerful burger joint conveniently located near a couple of great bars, as well as at Ma'amm Bolduc (4351-4355, ave. de Lorimier, map), another funky café, and Poutine Lafleur (514-761-0711; 3665, rue Wellington, map), in Verdun—not to be confused with the Lafleur fast-food chain, which is something else entirely. Grungy diner Montréal Pool Room (514-396-0460; 1200, blvd. St. Laurent, map), in the Latin Quarter, is another good bet.
For high-end/gourmet poutine:
There's the artery-clogging, $23 rendition that started the craze, the supercreamy foie gras poutine—fries cooked in duck fat, gravy enriched with foie gras and egg yolk, the whole thing topped with a hunk of seared goose liver—at Au Pied de Cochon (536, ave. Duluth Est, map), and Garde Manger's more newly famous lobster poutine (408, rue St-François-Xavier, map), the dish that won chef Chuck Hughes the Iron Chef America TV competition in 2011.
According to The Poutine Pundit blog, Poutineville (1348, rue Beaubien Est, map) has some nice "designer" poutines, with specialty gravies and various types of fries on offer. Of course, there's always smoked-meat poutine at joints like Lester's Deli (1057, rue Bernard Ouest, map), and this breakfast poutine, uploaded by an EYW user, looks pretty fine too. Where's your favorite?