Hormigas culonas, big-bottomed ants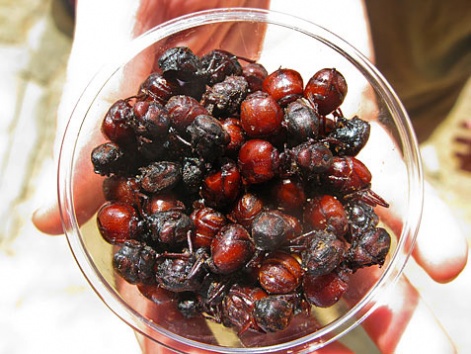 For centuries, hormigas culonas, or "big-bottomed ants"—a type of large leaf-cutter ant, always female—have been a regional delicacy and source of local pride in Santander, Colombia. Harvested in the spring, the hormigas santandereanas are quite nutritious, packed with protein and low in saturated fat; some locals like to tout their aphrodisiac qualities. They're served in corner stores either fried or roasted with salt (and served in small containers or bags); more upscale establishments give them the gourmet treatment.
Of course, any way you have them, these hormigas are relatively unadorned insects you're eating. In other words: Don't look too closely if you're squeamish.
Where:
Barichara is a great place to try these, if you dare. Look for the crunchy, salty roasted hormigas over the fried ones, which are more coffee-ground-like in texture; there's a
little
tienda
on Carrera 5 between Calles 8 & 9 that sells them in small amounts for 10,000 COP—as these are delicacies, they aren't cheap.
Also in Barichara is the highly rated Color de Hormiga (Calle 8, No. 8-44; 726-7156), known for its filet mignon in ant sauce, which is topped with fried ants.
When: The season for these hormigas is primarily April and May.
Alternatively:
You can also find these in shops around San Gil and Bucaramanga.
Interested in ants-as-food? You might also want to read about escamoles (ant larvae) in Mexico City.